FIIDO X 
NEVER BE PERFECT LIKE THIS TIME
Redefining the aesthetics of electric powered bicycle design, breaking the conventional cognition, all your imagination will be reflected in Fiido X. It will bring you unprecedented enjoyment in both using experience and unique shape, could be the perfect bike for all your sports needs, also can easily solve the problem of daily commuting. Furthermore, it's light and can be folded easily into the trunk, the 4+2 travel combination could help you to unlock more outdoor cycling experience.
Fiido X is Evolving
Born to evolve for users.
Check out how it has evolved over a year.
 Riding Experience1. +15° stem angle. Ride with more comfort
2. Adjusted algorithm for torque system. More range provided for gear 1
3. A Derailleur hanger included for protection
4. A softer and finer saddle for more comfort
 New functions1. A New PAS0 (Zero power-assistance) mode for smooth riding
2. An upgraded pass-code security system to include a power saving mode
Upgraded Frame1. +20% frame strength
2. Better cable protection – 60% damage risk
3. Improved folding clamp. Easier to use and save 3 seconds folding time
Modified Parts1. An upgraded meter to enable MPH and KPH and to include improved brightness and odometer
2. A full Shimano 7 speed shifter
3. Upgraded fenders made of PP for better durability.
4. Upgraded magnetic folding units for better reliability and convenience
The unique electric bicycle aesthetics that Fiido endows D21 truly achieves the perfect balance between form and function
Specifications
| | |
| --- | --- |
| MODEL | FIIDO X (350W) |
| Electric System  | Fiido System |
| Battery  | 417.6Wh |
| Battery Brand  | DMEGC 18650  |
| Battery Cycle Times  | 800 times  |
| Charging Time | 7 hours |
| Operating Temperature | -10°~50°  |
| Security System  | Fiido Security System  |
| Display  | LED with USB Charging Port |
| Sensor | Torque Sensor |
| Max speed | 19.2MPH(32KM/h) |
| Gear System | Shimano 7 Speed |
| Motor  | 350W Brushless Geared Motor |
| Power Assisted Range  | 110KM / 68Miles |
| Brake System | Hydraulic Brake |
| Frame Material | Magnesium Alloy  |
| Net weight  | 19.8KG(43LB)  |
| Maximum load  | 120KG(264.8LB)  |
| Input Voltage | 100~240V  |
| Crank  | 52T |
| Tire Size | 20'' *1.95 inch  |
| Fold Size | 794*350*803mm |
| Bicycle Size   | 1490*587*1070mm |
What's in the Box
Manual
Q&A
Fiido X is equipped with top-quality DMEGC 18650 lithium battery, which can reach to 1000 charging cycles times. Theoretically, Fiido X can be used for around 5 years without needing to replace the battery.
Adapted aviation grade magnesium alloy which is lighter than aluminum alloy, Fiido X only weighs 19.8kg
Fiido X can easily handle the rider up to 120kg/265lb.
Fiido X (250W version) can easily achieve 25km/h for legal reasons, Fiido X(350W version) can achieve 32KM/h. The bikes all have a speedometer in the instrument so you can see exactly how fast that is.
250W version of Fiido X equipped with 11.6Ah lithium battery, which can offers up to 130KM riding range in moped mode. 350W version equipped with 11.6Ah lithium battery, which can goes up to 110KM.
Fiido X provides 2 riding modes, which are power assisted mode and pedal mode.Equipped with a leading torque sensor system, which can sense the rider's wills. With the high torque motor. No more fear about the hillside, let's enjoy the beautiful scenery along the way more easily.
Safety comes first when we going out. Fiido X is a bike first and foremost that you can ride for more than 40km/h. But due to related regulations, the 350W version of Fiido X will stop motor powering when the speed reach above 32km/h. The 250W version of Fiido X will stop motor powing when the speed reach above 25 km/h.
Yes, when switching to the power assisted mode, the high torque motor can easily assist you to ride the bike on any steep country hills.
Fiido X is IPX54 waterproof. Though it is strong, we don't suggest you ride it in a heavy rainy day or in the swimming pool.
Fiido X is an excellent electric assisted bicycle, we've consider to put some shock absorption at the beginning of production design.
Fiido X equips a unique key-less security system, It's a power switch for both battery and bicycle, which perfectly be anti-theft.
2 ways to charge: you can remove the battery to charge it or take the bike directly to charge.It will take about 7 hours to finish charging.
There are Fiido X e-bike, charger, kickstand, Allen key, open spanner, a pair of fenders and a pair of pedals.
For bike frame, 36 months warranty; for controller, motor, battery, front fork, head tube, handlebar, charger: 12 months warranty; for instrument, pedal, flywheel, derailleur: 6 months warranty.
Within in warranty, any damaged caused by non-artificial reason will be maintained freely, you can contact us via support@fiido.com . For other damaged caused by personal use, please select the component on official website.
The height of saddle is adjustable from 80-110cm, which can suit different height of riders from 155cm(5.0') - 200cm(6.5')
Of course, the HD display is right on your left.
Fiido X fits 20*1.95 inch CTS professional e-bike tire.
Yes, it can be put into the trunk with the folding size of 794*350*803mm.
Sure, it can not only be pushed when you get off the bike to walk along, but also can be pushed when it's folded.
Shipping, Warranty & Return
The Average Delivery Time Is Only 7 Business Days
Return Policy
Exchange and Returns
If you haven't received the shipping notification, you can cancel or modify this order by contacting our customer service by email. Our customer service will help you cancel or modify the order within 24 hours after receiving your email. Since the email is not an instant reply, we may find that your order has been sent when we process your email within 24 hours. In this case, we can only say sorry for that, and we can't help you cancel or modify the order anymore. So please check the order information carefully before placing the order.
If you have received the shipping notification, please note that we CANNOT cancel or modify orders anymore. Therefore, please wait for your package to arrive and you may either keep it or contact us to return for a refund. Please DO NOT refuse the delivery as the undelivered package will be destroyed by the third-party logistics.
You must first contact us and get our written approval before sending any item back. Any product returned without acceptance will not be refunded.
We will help you cancel the order and process to refund you, and the refund takes 1-2 business days back to your account.
Cut to size items and special orders may not be returned unless it has been determined to be provided in error by Our Company. If the returned goods affect the second sale, our company will be appropriate to depreciation fee and transportation fee.
Acceptance time for return and exchange:within 15 days upon arrival; We will offer full refund or exchange if the product has major defects and is damaged(Without packaging damage and deliberate damage), the freight does not need to be borne by the customer; The round-trip shipping cost will borne by customer for personal reasons like dislike( Not product quality issue);Our warranty policy will be in effect upon the receipt of goods.
Please note that all accessories do not support returns. Once the package is received for purchase, the item cannot be returned.If the damage is caused by transportation, the quality of the accessories is defective, and the accessories have not been delivered for more than 35 days, we will refund the full amount within 1-2 business days after confirmation, or compensate for the new accessories for a new round of transportation .
Contact
1. For after-sales service, please contact
Support@fiido.com
Support01@fiido.com
2. For questions about orders on our website, please contact
Please include following information:
Platform of the purchase, such as Fiido.com, Amazon, Brand Store, etc. (If purchased on Amazon, Please also include the seller name on your order)
Order number/ID/Date
The email and shipping address you used when placed order
Pictures/Short videos of the problems and a brief description of the problems
Please contact us and get our written approval before sending any item back. Any product returned without acceptance will not be refunded. Refund will take 1-2 business days back to your account depending on what payment method you use.
Warranty
Warranty and Guarantee
The warranty period for bicycle is as follows. If the customer finds non-human damage within the warranty period, we will send the replacement parts free of charge. 
After warranty period, the customer has to pay replacement parts and shipping fees. The bike which we sell are factory new regular products, all parts are the same as the original parts.
Warranty coverage

One of the following conditions does NOT qualify for warranty:
Failure caused by the user's failure to use, maintain and adjust according to the "Instruction Manual".

Users disassemble, repair and modify themselves, and failures caused by non-compliance with the rules of use.

Failure caused by improper use or storage by the user, or accident.

No warranty card, or warranty card inconsistent with the bicycle.

Vulnerable parts and consumables do not enjoy guarantees for repair, replacement or compensation of fault products, including brake seat bags, plastic parts, spokes, rims, brake cables, surface scratches, etc.

The cost of repairing in other repair shops without the consent of the special maintenance organization.

Slight scratches or damage to the outer shell caused by the logistics transportation of the accessories are not warranted.

Scratched or broken lead fittings are not warranted.
Contact US
support@fiido.com OR support01@fiido.com;
Please include following information:
Platform of the purchase, such as fiido.com, Amazon, Brand Store (like eBikeHaul), etc.
Order number/ID/Date
The email and shipping address you used when placed order
Pictures/Short videos of the problems and a brief description of the problems
Please contact us and get our written approval before sending any item back. Any product returned without acceptance will not be refunded.
About FIIDO
Fiido spares no effort to research and develop reformatory electric bicycles and accessories for various groups of people. By means of technological promotion, Fiido has been dedicated to making exercise easier and settling mobility challenges since its establishment in December 2016.
The first FIIDO e-bike was born in 2017 and received widespread attention. Not only do we desire to provide cyclists with more effective commuting capabilities, but also a more enjoyable riding experience. 
2019 has witnessed the birth of the highly anticipated D11. The D11 product ID was initialized in February that year. Our engineering team has confirmed final design form factor in April. Then they created product prototype in May. Three months later in August, product testing has been finished punctually. Finally in November our factory started mass production and quality assurance.
We launched an Indiegogo campaign in June 2020 and successfully raised 1 million dollar. Batch shipment has started on August 1st in sequence and we've started batch delivery on September 1st.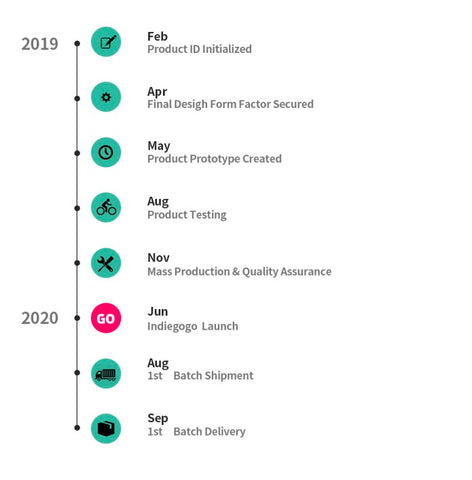 Every independent developed and produced electric bicycles retains the form and sport attributes of traditional bicycles under the premise of extremely lightweight. In consideration of the functionality of our products, most e-bikes are equipped with detachable hidden battery, which is a safer Lithium one. Furthermore, the configuration of assistor, brushless gear motor, efficient vector controller and 7-speed gear guarantees the stable performance of FIIDO e-bikes. As for portability, most e-bikes are foldable, making them easy to carry, which undoubtedly improves the convenience when going out for a long journey.
We have four product series currently: Smart, Off-Road, Mileage, and Fun(?), which are in demand for more riding scenes. The market territory of our company covers more than 40 countries including USA, United Kingdom,Singapore, Italy, France, and the China.
Customer Always Comes First
Through the distribution pattern of direct-to-consumer, Fiido creates a more cost-efficient way for customers to purchase by removing excessiveness from an out-of-date supply chain.
We are definitely not the first brand to launch electric bicycles in the world, nevertheless, there's one fact which made us proud - the electric bicycles we produced have consistently gained the greatest customers satisfaction. The implementation of this achievement should be attributed to the rigid selection of material, elaborate packaging during transportation and the peculiar design of our engineering team.
It is precisely because Fiido takes all customers into consideration, you may find the e-bike that fits you most with ease whether you are a photographer, programmer, architect, officer, enterprise clerk, athlete, student, new mother or chauffeur.
Fiido hammers at providing customers with an experience of riding electric bicycles that is brimming with gratification, merriment, and more importantly, our cyclists may get the accompanying health advantages when indulging in the joy of riding.
We also pay close attention to the spiritual world of riders choosing our products. The cultural ascription of returning to the traditional bicycle shape and the satisfaction of cycling are irreplaceable regardless of how times change.
To some extent, controlling time means controlling one's own life. The electric bikes produced by Fiido may help when you were weighed down with life. In addition, with such multiple function and fashionable outlook, it may also be a thoughtful present for your loved ones.